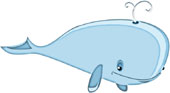 Fun Whale Facts for Kids

Whales are huge, warm-blooded, air breathing mammals
that live in the sea. There are many different species
including the blue whale, killer whale, humpback whale, orca and minke.
Learn more about whale conservation, their habitat, migration and other interesting information with our fun whale facts.