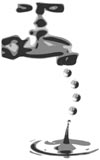 Enjoy fun science experiments for kids that feature awesome hands-on projects and activities that help bring the exciting world of science to life.


Bending Water with Static

Here's an easy science experiment that's great for helping kids learn about static electricity. Try bending water with static electricity produced by combing your hair or rubbing it with an inflated balloon, can it really be done? Give it a try and find out!