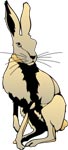 Check out our awesome range of animal facts for kids and learn some fun trivia about our friends in the animal kingdom.

Fun Hare Facts for Kids

Check out our fun hare facts for kids. Learn about the differences between hares and rabbits, how fast hares can run, what a group of hares is called and much more.
Read on and enjoy a variety of interesting information about hares.