Zoologists study the behavior, physiology, classification and distribution of animals, whether they are living or extinct.

Important subjects related to zoology include biology, physics, chemistry, English, algebra, calculus and statistics.

Zoologists have a love of animals and those who work in the field are usually physically fit.

Observing animals in their natural habitat can be a time consuming process, zoologists who work in the field need to be patient and willing to spend time in a variety of locations and environments.

As well as observing and studying animals, zoologists may spend time writing research articles and reports.

Zoologists can also be involved in conservation, protecting endangered animals and their habitats.

Zoologists may find jobs working for government agencies, non-profit organizations, universities, museums and zoos.

A bachelor's degree in zoology is a minimum requirement for entry level jobs while further qualifications are usually required for higher level research jobs.

As part of their job, zoologists may find themselves organizing studies of animals in their natural habitat, studying specimens under microscope, fundraising, writing reports and scientific articles, making presentations to schools and interest groups, identifying and classifying animals, estimating wildlife populations and much more.

The word 'zoology' comes from Greek words meaning 'animal' and 'knowledge'.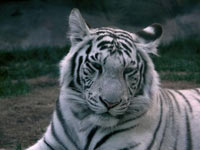 Science Careers
Zoologist