Swedish chemist, Carl Wilhelm Scheele, discovered Chlorine in 1774 believing it contained oxygen. In 1810, Sir Humphry Davy tried the same experiment and concluded that Chlorine was in fact an element, and not a compound.
Chlorine is also used in a range of other industrial and consumer products such as the making of plastics, whitening of textiles, pharmaceuticals, in chloroform, insecticides, paper products, solvents, dyestuffs and paints.

In high concentrations chlorine is extremely dangerous and poisonous. It is also heavier than air, so can fill up enclosed spaces. Because of these facts chlorine was the first gaseous chemical used as a weapon in warfare when both sides at times dispersed it in low-lying foxholes and trenches of World War I.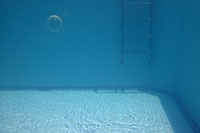 More Chemistry Facts!
Chlorine