Austria is officially called the Republic of Austria. In German it is called Osterreich which means "eastern kingdom" or "eastern empire".
Austria is a landlocked country, with a land area of 83,855 km² (32,377 mi²).
German is the official language of Austria and is spoken by over 88% of the population. Other local languages include Hungarian, Croatian, Serbian, Bosnian, Turkish and Polish.
Austria is a mountainous country due to its location in the Alps, two-thirds of the country sits over 500m (1,640 ft) above sea level. The highest point is the mountain of Grossglockner at 3,798 metres (12,461 ft).
As of 2013, Austria has 20 Nobel Prize laureates including seven in Physiology or Medicine, five in Chemistry, three in Physics and Economist Friedrich Hayek.
Austria is home to some of the most famous classical music composers the world has ever seen including Joseph Haydn, Franz Liszt, Franz Schubert, Anton Bruckner, Johann Strauss and Wolfgang Amadeus Mozart.
Many famous scientists have come from Austria, including Ernst Mach, Christian Doppler and the famous psychologist Sigmund Freud.
Football (soccer) is a popular team sport in Austria, the national team came 4th in the 1934 World Cup Finals and 3rd in 1954. The country also co-hosted the 2008 European Championships with Switzerland.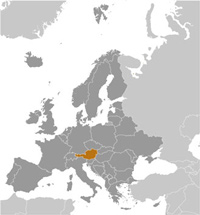 More Country Facts!