Historically, Bangladesh is prone to monsoon flooding and cyclones due to its unique geographic make up. The country is almost entirely flat and is dominated by the Ganges-Brahmaputra delta where the Ganges, Brahmaputra and Meghna Rivers make their way down from the Himalayas and converge on the lowlands.
The highest peak in Bangladesh is Saka Haphong in the southeastern Mowdok Range at just 1,052 m (3,451 ft).
Bangladesh has a population of 163 million people (163,654,860) as of July 2013 making it the world's eighth most populated country.
For such a large population, Bangladesh is a relatively small country, 147,570 km² (56,977 mi²), making it one of the world's most densely populated countries.
In 1947, a Bengal area was divided off from India and became the eastern area of the new country called Pakistan, the western part of which was on the other side of India. East Pakistan rebelled with a Civil war in 1971, and gained independence from the West (Pakistan) to become the country of Bangladesh.
Over 30% of Bangladesh's population live below the poverty line, however, the economy and standards of living have been improving over recent years.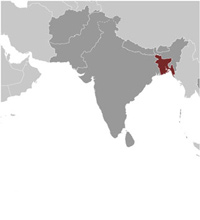 More Country Facts!