The official languages of Finland are Finnish, native to 90% of the population and Swedish, native language to 5.4% of the population. The indigenous Sami language is an official language in the area of northern Lapland.
In the far north of Lapland on the Finland and Norway border is the highest point in the country, the mountain Halti at 1,324 metres (4,344 ft).
Between the 12th and 19th centuries, Finland was part of Sweden, before it became a part of the Russian Empire until gaining independence during the Russian Revolution in 1917.
Finland has thousands of lakes (about 188,000) and islands (about 179,500) leading to the nickname for the country "Land of the Thousand Lakes".
Finland has some interesting and unique wildlife including the gray wolf, wolverine, elk, its national animal the brown bear and national bird the whooper swan.
Forests including pine, spruce, and birch cover over 86% of Finland, making the country the largest forested area and largest producer of wood, in all of Europe.
Telecommunications company Nokia is from Finland, it is headquartered in Espoo, and is one of the world's largest manufacturers of mobile phones.
By gold medals won per capita, Finland is the most successful country in Olympic history. Success in javelin throw and distance running with the "Flying Finn" Hannes Kolehmainen in 1912 (won 3 gold medals), and another "Flying Finn" Paavo Nurmi in 1920, 1924, 1928 (won 9 gold medals) has helped contribute to the success.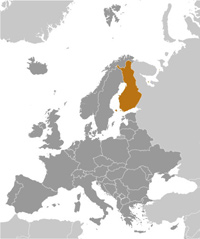 More Country Facts!