Budapest is the capital and largest city in Hungary, with over 1.7 million people. In 1873, Buda and Óbuda (old Buda) on the west-bank of the Danube River unified with Pest on the east-bank to become Budapest.
A power from the 12th century, medieval Hungary then fell under partial Ottoman occupation for 150 years (1541-1699). Before it came under Habsburg rule, and later formed a major part of the Austro-Hungarian Empire (1867-1918).
Following occupation during the world wars, Hungary came under rule of the Soviet Union, and a four decade long repressive communist state (1947-1989). Since October 1989, Hungary has become a democratic republic.
Hungary has a popular spa and bath culture, with around 1,500 thermal water springs and 450 public baths. Budapest has many grand spas such as the famous Gellért Baths and the Széchenyi Thermal Baths.
Hungary is famous for its mathematicians including the designer of modern geometry Farkas Bolyai and his son designer of non-Euclidian geometry János Bolyai, Paul Erdős for Erdős numbers and John von Neumann, who was a key contributor in Quantum mechanics, Game theory, and digital computing.
13 Hungarian or Hungarian-born scientists have received the Nobel Prize, all of whom emigrated from Hungary, due to persecution during the communist regime.
Hungarian's have invented many important items over the years, including the electric motor, the Telephone Exchange, and BASIC programming language. Laszlo Biro invented the ballpoint pen, Erno Rubik invented the Rubik's Cube.
Goulash stew is a famous Hungarian dish and paprika (ground red peppers), is also a Hungarian innovation. Dobos torte or Dobosh is a Hungarian sponge cake layered with chocolate buttercream, nuts on the sides and topped with caramel.
Historically, the Hungarian football team has done very well, with 3 Olympic titles in 1952, 1964, 1968, made two World Cup finals in 1938 and 1954, and came 3rd in the 1964 Euro's. Legend Ferenc Puskás is one of world footballs all time greats.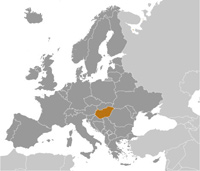 More Country Facts!