Malaysia is a multi-ethnic and multi-cultural country. Along with the many indigenous cultures, substantial influences from Chinese, Indian, Persian, Arabic, and British cultures have taken place.
Malaysia is made up of two main landmasses, Peninsular Malaysia and Malaysian Borneo, they are separated by the South China Sea.
Mount Kinabalu in the Crocker Ranges, is the tallest mountain in Malaysia at 4,095 m (13,436 ft) above sea level.
The world's largest discovered cave chamber (single room) is the Sarawak Chamber, in the Gunung Mulu National Park, Malaysia.
The national drink of Malaysia is a hot milk tea called Teh tari, and the national dish is called Nasi lemak, it is a fragrant rice dish cooked in coconut milk, often served wrapped in a banana leaf, and usually eaten for breakfast.
Popular sports played in Malaysia include football, badminton, field hockey, bowls, tennis, squash, martial arts, sailing, horse riding, and skateboarding.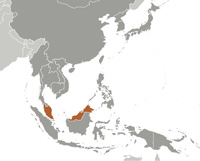 More Country Facts!