The official name of Thailand is the Kingdom of Thailand and it was formerly known as Siam.
Thailand has a land border with 4 countries including Myanmar (formerly Burma), Laos, Cambodia and Malaysia.
Thailand has a population of 67 million people (67,448,120) as of July 2013.
Bangkok is the largest city and the capital of Thailand.
Bangkok's full ceremonial name is Krungthepmahanakhon Amonrattanakosin Mahintharayutthaya Mahadilokphop Noppharatratchathaniburirom Udomratchaniwetmahasathan Amonphimanawatansathit Sakkathattiyawitsanukamprasit which is the longest place name (that has spaces) in the world.
Doi Inthanon in the northern mountain range of Thanon Thong Chai is the highest point in Thailand at 2565 m (8415 ft) above sea level.
Thailand has over 1430 islands.
Buddhism is the primary religion in Thailand, it is practised by about 95% of the population. Throughout Thailand are many Buddhist temples and grand golden Buddhist statues.
Siamese cats originated in Thailand where they are called Wichian Mat.
There are 15 reserved wild animal species in Thailand including two types of Rhinoceros. It is prohibited by law to breed, hunt, possess or trade these species.
Thailand's national symbol is the elephant. A century ago there were 100,000 elephants in the country, now there are just an estimated 2,000 left in the wild.
Thailand's climate is tropical with a rainy monsoon season from November through to March with the southern area of the country being especially hot and humid.
The Thai currency is called the Baht.
Thai food is well renown, dishes that include spicy curries with rice or noodles are found on many other country's menus throughout the world.
Muay Thai (Thai boxing) is a form of kickboxing and is Thailand's national sport.
Thailand is often called the "Golf Capital of Asia", with beautifully kept courses at a reasonable price the country attracts a larger number of golfers from around the world.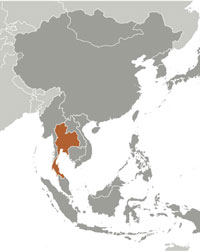 More Country Facts!