Ukraine has an area of 603,628 km² (233,062 mi²), which makes it the largest country with its entirety within Europe.
The official language of Ukraine is Ukrainian, it is the dominant language spoken in western and central cities and many rural areas of the country. Most native Ukrainian speakers know Russian as a second language. In eastern and southern cities Russian is the most spoken language.
The highest point in Ukraine is the Hora Hoverla at 2,061 metres (6,762 ft), it is located in the Carpathian Mountains. The only other mountain ranges are the Crimean Mountains in the south. The central heartland of Ukraine is a large flat rich-soiled area known as the steppe.
The world's worst nuclear power plant accident, the 1986 Chernobyl Nuclear Power Plant disaster, took place in the now abandoned Ukrainian town of Pripyat.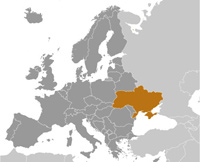 More Country Facts!