Venezuela is on the northern coast of South America, it covers an area of 916,445 km² (353,841 mi²) making it the 33rd largest country in the world by land mass.
Pico Bolivar is the highest mountain in Venezuela, at 4,979 m (16,335 ft) it sits in the northern extension of the Andes mountain range in the west of Venezuela.
Venezuela is home to many weird and interesting animals including manatees, the Giant anteater, Three-toed sloth, Two-toed sloth, jaguar, Amazon river dolphins, Orinoco crocodiles and the worlds largest rodent the capybara.
Venezuela has over 1400 bird species, including kingfishers, ibises, ospreys, and its national bird the yellow-orange Venezuelan Troupial.
There are over 25,000 species of orchids in Venezuela, including the country's national flower 'flor de mayo orchid'.
Venezuela was colonized by Spain in 1522. It declared independence from Spanish rule in 1811, on July 5th (its celebrated National Day). The country secured independence as part of the Republic of Gran Colombia in 1821, and became its own independent republic in 1830.
Spanish is the official language in Venezuela but over 30 other indigenous languages are officially recognised including Wayuu, Warao, and Pemon.
The Venezuelan flag is colored yellow, blue and red. The yellow is for land wealth, the blue for the sea that separates Venezuela from Spain, and the red represents the blood shed by the heroes of independence.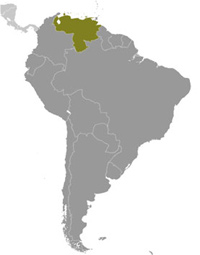 More Country Facts!