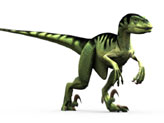 Deinonychus Facts for Kids

Enjoy our range of interesting Deinonychus facts for kids. The Deinonychus was part of the same dinosaur family as the Velociraptor, featuring a large claw on its hind feet and around the same bite force as an alligator.
Read on and check out all our cool Deinonychus information, learn when this dinosaur lived, where its fossils have been found, what its name means and more.