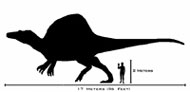 Spinosaurus Facts for Kids

Check out these cool Spinosaurus facts for kids and learn about what might have been the largest meat eating dinosaur ever!
The name Spinosaurus refers to the huge spines that grew from its back, reaching over 1.5 metres (5 feet) in length. Read on to find out more interesting information about the Spinosaurus, including when it lived, where its first fossils were found and how much it weighed.