Small amounts of copper can be found in a natural state while the metal is also found in minerals such as cuprite, malachite, azurite, chalcopyrite and bornite.
Foods rich in copper include oysters, beef, nuts, cocoa, black pepper, lobster, sunflower seeds, green olives, avocados, and wheat.
Copper has a melting point of 1,984.28 °F (1,084.6 °C) and a boiling point of 4,643.6 °F (2,562 °C).
60% of copper is used in electrical wiring, 20% is used in roofing and household plumbing, while 15% is used in the making of industrial machinery.
Copper is also found in TVs, radios, washers, dryers and some cookware.
Copper is a plentiful natural resource on Earth. At the current rate of extraction there is enough copper in the top kilometer of the Earths crust to meet demand for 5 million years.

A mine in Sweden called "The Great Copper Mountain" operated from the 10th century to 1992. It produced two thirds of Europe's copper requirements in the 17th century.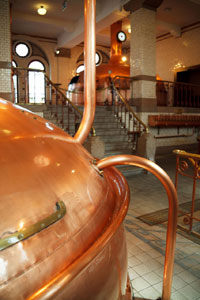 More Metal Facts: