Sir Humphry Davy was the first to isolate magnesium in England, in 1808, calling it 'magnium'. While Antoine Bussy first prepared magnesium in a consistent form in 1831.
Elemental magnesium is a light, fairly strong, silvery-white metal that tarnishes slightly when exposed to air.
Magnesium has a melting point of 1,994 °F (1,090 °C) and a boiling point of 1,202 °F (650 °C).
Once ignited, magnesium is extremely difficult to extinguish. Attempting to put out the fire using water produces hydrogen, which only intensifies it. Magnesium also burns in both pure nitrogen and pure carbon dioxide, so a carbon dioxide fire extinguisher will feed the flames too. The most effective way to stop it burning is by using a dry chemical fire extinguisher, or covering it with sand.
Automobile manufacturers such as Volkswagen, Porsche, BMW, Corvette, and Mitsubishi have all dabbled in using magnesium in engine components.
Because of its good mechanical and electrical properties and lightness, magnesium is useful in the manufacturing of electronic devices such as mobile phones, laptops and cameras.
Magnesium compounds, mainly magnesium oxide (MgO) are used in the manufacturing, agricultural, chemical, and construction industries.
Magnesium rich foods include spices, nuts, cereals, coffee, cocoa, tea, and leafy green vegetables like spinach.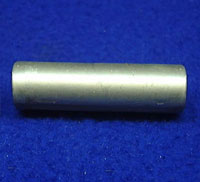 More Metal Facts: