In 1751, Baron Axel Fredrik Cronstedt discovered nickel while trying to extract copper from the ore kupfernickel. He named the white metal substance nickel after the spirit that had given its name to the ore.
Nickel has a melting point of 2,651 °F (1,455 °C) and a boiling point of 5,275.4 °F (2,913 °C).
Along with iron, cobalt and gadolinium, nickel is one of just 4 elements that are magnetic at or near room temperature.
Nickel was commonly used in the making of coins, however, due to the metal being a skin allergen for some people, and the fact that today cheaper metals are available the element is no longer widely used in coinage.
People can have allergic reactions to nickel through skin contact. Traditionally, nickel has been used to make jewelry such as earrings. Nickel allergies affecting pierced ears often result in itchy, red skin, therefore many earrings are now made nickel-free.
Nickel is also used in many other products such as magnets, rechargeable batteries, electric guitar strings, microphone capsules, and as a green tint in glass.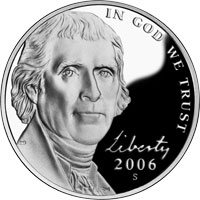 More Metal Facts: