British pastor William Gregor discovered titanium in 1791. It was later named by German chemist Martin Heinrich Klaproth who called it titanium after the Titans of Greek mythology. It was not until 1910 that titanium was produced to 99.9% purity by New Zealander Matthew A. Hunter, the method became known as the Hunter Process.
Titanium has a melting point of 3,034 °F (1,668 °C) and a boiling point of 5,949 °F (3,287 °C).
Many elements such as iron, aluminium, nickel and vanadium are alloyed with titanium to produce strong lightweight alloys. These titanium alloys are used in the manufacturing of naval ships, spacecraft, missiles and aircraft, with around two thirds of all titanium metal produced is used in aircraft engines and frames.
Titanium's strength-to-weight superiority has seen the metal used as a component in many other products in recent times including, laptops, firearms, tennis rackets, golf clubs, lacrosse sticks, football helmet grills, bicycles frames, camping cookware and utensils.
Around 95% of all titanium is used to produce the compound titanium dioxide, which is a very bright and refractive white pigment that is used in paints, plastics, toothpaste, sunscreens, sports equipment and paper.
The fact that titanium is strong, light, non-toxic and does not react with out bodies makes it a valuable medical resource. Its used to make surgical implements and implants, such as hip joint replacements that can stay in place for up to 20 years.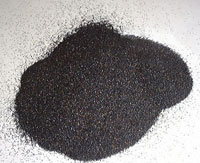 More Metal Facts: