The sunflower is a large inflorescence, this means the flower head is actually made of many tiny flowers called florets. Central florets look like the center of a normal flower while the outer florets look like yellow petals and together they make up a "false flower". This natural design helps insects and birds to easily see the sunflower and after pollination every little flower or floret produces a seed.
The flowers within a sunflower head are clustered in a spiral pattern whereby each floret is oriented towards the next by the golden angle of 137.5°. This produces a pattern of interconnecting spirals. The number of left and right spirals are consecutive Fibonacci numbers. Normally there are 34 spirals in one direction and 55 in the other. Very large sunflowers can have 89 in one direction and 144 in the other.
The sunflower is native to the America's and was used extensively by Native American Indians for food, as oil, in bread, medical ointments, dyes and body paints.
Sunflowers can be used to extract toxin such as lead, arsenic and uranium from contaminated soil. For example, sunflowers were used to remove toxins from a pond after the Chernobyl disaster and similar projects took place after the Fukushima nuclear disaster.

It is a misconception that flowering sunflower heads track the Sun across the sky during the day. Young flower buds do display movement similar to this behaviour through a process called heliotropism. But a mature flower usually points in a fixed easterly direction.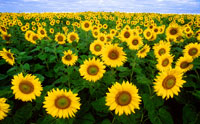 More Plant Facts: