Extreme sports, sometimes called action sports or adventure sports, do not have an exact definition but are generally considered to be activities that are seen as having a high level of potential danger.
Extreme sports often involve high speeds, dangerous heights, the requirement for a high level of specialist technical skill, and highly specialized gear or equipment.
Success in extreme sports usually involves judging panels scoring athletes based on visual and technical criteria and completion of a 'trick'.

Height based extreme sports include Bungee jumping, skydiving, BASE jumping, paragliding and hang gliding.

Water based extreme sports include scuba diving, windsurfing, kitesurfing, wakeboarding surfing, whitewater kayaking and rafting.

Wheel based extreme sports include BMX, skateboarding, mountain biking, inline skating, rally car and motocross.

Winter based extreme sports include skiing, snowboarding, and snowmobile.

Cliff and cave based extreme sports include rock climbing, ice climbing, caving, free diving, mountaineering and cave diving.

The X Games are an annual extreme sports event, organized by the U.S. sports broadcaster ESPN. Participants compete to win gold, silver, and bronze medals along with prize money.

The first Summer X Games were held in 1995 in Newport, Rhode Island. The first Winter X Games were held in 1997 at Mountain Resort, Big Bear Lake, California.

X Games are typically held in the USA. The winter games are held in January or February and the summer games are usually held in August.

X Games have also been held in Asia since 1998 and Europe since 2010.

The X Games competitions often makes heroes of those athletes who are talented and brave enough to pull of a new and exciting 'trick' such as Tony Hawk's 900 in skateboarding, Travis Pastrana's double backflip in freestyle motocross, Heath Frisby's first snowmobile front flip or snowboarder Torstein Horgmo's triple flip.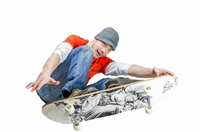 More Sports Facts: