Check out our cool animal videos for kids. Learn more about animals while enjoying a range of awesome clips.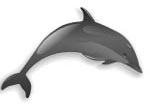 Amazing Dolphin Video

Enjoy this amazing dolphin video filmed at Sea World in Orlando, USA. Watch the dolphin as it enjoys playing with bubbles under water. Swimming from one side of the tank to the other, the dolphin forms bubble rings and then does impressive tricks with them to an amazed audience.