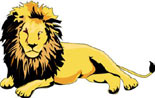 Lion Encounter Video

Watch a BBC reporter get a one on one experience he'll never forget in this lion encounter video.
After learning a bit about the lions the reporter enters the lions den where the giant animals size him up. Never feeling completely comfortable with a strange human inside their den, the lions suddenly get nasty and threaten to attack!