Learn about all kinds of dinosaurs, how they might have lived, their behavior, appearance and more with these awesome video clips.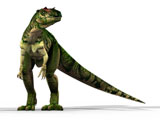 Stegosaurus v Allosaurus

Watch hungry dinosaurs in action with this great video. See a confrontation between Stegosaurus and Allosaurus with amazing CGI effects that bring the long extinct dinosaurs to life. How will the Allosaurus react to the Stegosaurus as it uses the huge plates that run along its spine to intimidate the mighty carnivore?