Learn about all kinds of dinosaurs, how they might have lived, their behavior, appearance and more with these awesome video clips.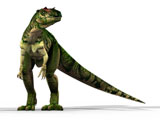 Recreating Dinosaurs

Watch this excellent dinosaur video and learn how the BBC used modern science to recreate dinosaurs as part of their Walking with Dinosaurs documentaries. Using fossils, bones, skeletons and even skin impressions, scientists can model the probable appearance of dinosaurs with ever improving accuracy.