Check out our amazing engineering videos. Learn about different types of engineering while enjoying a range of awesome video clips.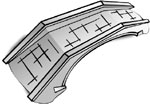 Bridge Building Video

Enjoy this bridge building video and learn some of the important differences between arch, suspension and cable-stayed bridges. These differences are important when deciding what kind of bridge would work best in any given situation. Engineers take into account the bridge purpose and location before choosing the best bridge design.