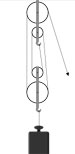 Pulleys and Simple Machines

Learn more about pulleys, simple machines, force & mechanical advantage by watching this excellent video.
Learn how to measure force, how we use simple machines to make work easier for us, how this is related to gravity, a unit known as newtons, pulley systems and much more. Take the first step to becoming an engineer and have fun at the same time.